Ford Truck Accessories
For more than 100 years now, Ford Motor Company has been selling mass-produced automobiles in the United States and around the globe. Known as one of the Big Three American manufacturers, Ford has attracted millions of loyal customers with a wide range of dynamic and innovative products that offer considerable value for the money.
Ford Escape Overviews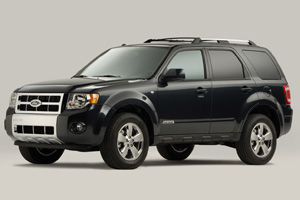 Ford Escape is a compact four-door SUV. Due to its light-duty four-wheel-drive system, fully independent suspension and unibody construction, it's more suited for on-road driving than off-roading. Its underlying structure was developed with input from Mazda, whose Tribute is very similar to the Escape. The Mercury Mariner is also nearly identical to the Escape and differs mainly by having a few more features and different interior and exterior design details.
The Escape is available in one four-door body style with either front-wheel drive or all-wheel drive. Three trim levels are offered: XLS, XLT and Limited. As with other Ford products, moving up the list provides additional standard features. The majority of shoppers will likely be satisfied with the XLT.
All trim levels can be had with either front- or all-wheel drive. All but the Limited come standard with a 2.5-liter four-cylinder engine that produces 171 horsepower. A five-speed manual transmission (XLS only) or a six-speed automatic are available. Standard on the Limited and optional on the XLT is a 240-hp 3.0-liter V6. The six-speed auto is the lone transmission with the V6. A special version of the Escape, the Escape Hybrid, has a gasoline/electric powertrain that provides the best fuel efficiency of any SUV.
The current crop of engines handily addresses previous complaints of merely adequate acceleration and mediocre fuel economy. Despite a supbar braking performance, Ford's latest Escape is worth a look. Though these ford escape accessories still hold true today, there's no denying that the Ford Escape's basic design is getting a bit old, even with a significant freshening for 2008. The interior in particular has received significant improvements, with much better materials and a more attractive design. Regardless, the Escape is at a disadvantage against newer compact sport-utilities, which are more refined and offer more rewarding driving experiences.
Ford Escape Video