Ford Truck Accessories
For more than 100 years now, Ford Motor Company has been selling mass-produced automobiles in the United States and around the globe. Known as one of the Big Three American manufacturers, Ford has attracted millions of loyal customers with a wide range of dynamic and innovative products that offer considerable value for the money.
Ford Excursion Overviews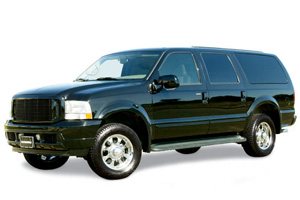 Ford Excursion was the largest SUV in Ford's lineup, based on overall size and interior room. It was available with either two- or four-wheel drive. In its first year of production, the Excursion was offered in just two trim levels: the base XLT and the more upscale Limited. The Eddie Bauer trim level made its debut in model year 2003 as a midlevel alternative, falling between the XLT and the Limited. In 2004, trim levels were revised to reflect the following hierarchy: base XLS, XLT, Eddie Bauer and top-of-the-line Limited. Excursions were initially available with three engines. The standard engine on both XLTs and Limiteds was a 5.4-liter V8 good for 255 horsepower and 350 pound-feet of torque, with both a 310-hp 6.8-liter V10 and a 235-hp 7.3-liter turbodiesel V8 offered as options. In 2001, the 7.3-liter turbodiesel saw its power increase to 250 hp. The Excursion's 7.3-liter turbodiesel was phased out in 2004 to make way for a new 325-hp, 6.0-liter turbodiesel V8 that also offered more torque and cleaner emissions.
All engines were governed by a four-speed automatic transmission, except for the 6.0-liter turbodiesel, which had a five-speed automatic. In a test involving a 2000 Ford Excursion equipped with the 6.8-liter V10, our editors averaged just 12.4 mpg in combined city and highway driving. Of all these choices, the 6.0-liter turbodiesel was the pick of the litter: With 560 lb-ft of torque, it was best suited for hauling heavy loads, and it delivered the best cruising range to boot. Base-model Excursions boasted a generous standard ford excursion accessories list, offering amenities like a rear air-conditioner, cruise control, full power accessories and a CD player. Pricier trim levels got you goodies like rear audio controls, power-adjustable pedals, a premium audio system and heated front seats. Options like an in-dash six-disc CD changer and a DVD-based rear-seat entertainment system were available across some trim levels.
The Excursion's interior was more utilitarian than elegant, with a no-frills dashboard that came courtesy of the Super Duty pickup. Top-tier trim levels were a bit more stylish. The Eddie Bauer model featured a cabin with a two-tone color scheme, and the Limited trim offered an interior with cherry wood accents. Nine passengers could be seated in XLS and XLT models; other models seated only eight as a result of their front captain's chairs. Excursions offered 146.4 cubic feet of maximum cargo space. This is the most capacity ever offered in a full-size SUV, but it still felt short of the cubic footage available in a full-size van -- arguably a better choice for large families.
In editorial reviews, the Ford Excursion's size prevented it from scoring high marks as a daily driver. Steering feel was vague, and ride quality was rough and bouncy. Routine trips down the expressway were a chore, as continual steering correction was needed to keep the big Ford from wandering out of its lane. Acceleration was leisurely no matter which drivetrain you selected, as the engines were tasked with motivating more than 7,000 pounds of vehicle. In consumer reviews, the Excursion was praised for its roomy interior and panned for its interior styling and poor fuel economy.
Ford Excursion Video