Ford Truck Accessories
For more than 100 years now, Ford Motor Company has been selling mass-produced automobiles in the United States and around the globe. Known as one of the Big Three American manufacturers, Ford has attracted millions of loyal customers with a wide range of dynamic and innovative products that offer considerable value for the money.
Ford Expedition Overviews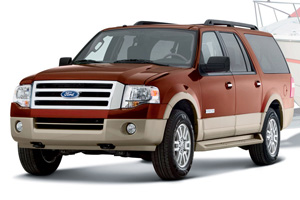 Ford Expedition is offered in two lengths: standard and EL. The EL benefits from a 12-inch stretch in wheelbase and nearly 15 inches of additional overall length. The biggest reason to consider the EL is to cash in on the generous cargo space behind the third-row seat, which is more than twice that of the standard Expedition. The EL also features a longer rear door that facilitates entry into the third row. However, whereas previous-generation Expeditions could hold up to nine passengers, today's holds only eight, due to standard front bucket seats.
The Expedition is available in four trim levels, with the comfortably equipped but hardly lavish XLT serving as the base model. The Eddie Bauer trim adds two-tone paint and more interior features, while the Limited trim level gets monochromatic paint and a truly luxurious interior. The King Ranch adds unique ford expedition accessories like koko wheels and leather upholstery as well as wood accents. Available options include navigation, heated and cooled seats and a rear-seat entertainment system, although some options are not available on certain models.
The Ford Expedition features fold-flat second-row seats as well as available power-folding third-row seatbacks that together create a wide, flat cargo floor. Families with infants will appreciate the sliding center position of the second-row seat, which can bring a child in a safety seat up to 11 inches closer to the front-seat passengers.
Ford's full-size SUV is surprisingly pleasant to drive, thanks to quick steering, a smooth engine and a ride quality that feels more like a big car than a big SUV. All Expeditions are powered by a 5.4-liter V8 that produces 300 horsepower and 365 pound-feet of torque. As with most full-size SUVS, the Expedition is offered with a choice of rear-wheel drive or four-wheel drive. Shoppers looking for more power will find it in several of the Expedition's competitors, but not all offer a six-speed automatic transmission to make the most out of it.
Ford Expedition Video