Ford Truck Accessories
For more than 100 years now, Ford Motor Company has been selling mass-produced automobiles in the United States and around the globe. Known as one of the Big Three American manufacturers, Ford has attracted millions of loyal customers with a wide range of dynamic and innovative products that offer considerable value for the money.
Ford Explorer Overviews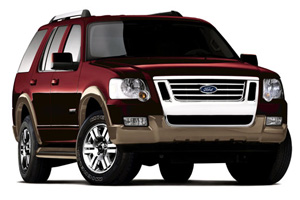 Ford Explorer consists of four main trim levels: XLS, XLT, Eddie Bauer and Limited. Naturally, moving up the list provides more standard equipment and luxury features. Stability control and antilock brakes come standard. For power, the Explorer can be equipped with either a 210-horsepower 4.0-liter V6 or a 4.6-liter V8 good for 292 hp. Two- or four-wheel drive is available with either engine.
In reviews of the latest Ford Explorer, our editors have found that the vehicle provides excellent ride and handling characteristics, a comfortable and roomy cabin, and strong power and a high towing capacity on V8 models. In posted comments, consumers seem to agree with this assessment. Their complaints typically mention poor fuel economy for the V8 and minor interior ergonomic faults.
The Explorer is currently in its third generation, which dates back to the 2002 model year. Earlier Explorers of this generation did not vary much in terms of features or performance, though 2004 and newer models have more available safety features. For 2006, a substantial update took place that included revised styling inside and out, an improved frame, enhanced safety systems and the addition of the current, more powerful V8 (the previous V8 produced 239 hp). More recent Explorers benefited from the arrival of the Sync music/phone interface (2008) and a revised navigation system (2009).
Previous to the current model, there were two Explorer generations. Model years 1995-2001 represent the second generation Explorer. Though not as refined as the current model and not as powerful, this group is still a respectable choice for an SUV. For most of this generation's run, three engines were available: a standard 160-hp V6, an optional 210-hp V6 ('97 and later) and a 210-hp 5.0-liter V8. The familiar XL, XLT, Eddie Bauer and Limited were the available trims, and there was a two-door Explorer known as the Sport. Editorial reviews of the time noted that the Explorer had a comfortable cabin and decent utility but fared poorly in terms of road handling and off-road ability.
Ford Explorer Video