Ford Truck Accessories
For more than 100 years now, Ford Motor Company has been selling mass-produced automobiles in the United States and around the globe. Known as one of the Big Three American manufacturers, Ford has attracted millions of loyal customers with a wide range of dynamic and innovative products that offer considerable value for the money.
Ford F-250 Overviews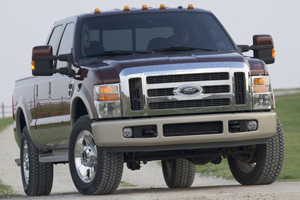 Ford F-250 is available in three body styles (regular cab, extended cab, crew cab) and four trim levels (base XL, midlevel XLT, off-road-oriented 4WD-only FX4 and plush Lariat). Many ford f-250 accessories are available to further customize the F-250, including a fancy King Ranch package and a Tow Command system that integrates the control of the trailer brakes with those on the truck.
A trio of engines sees duty in the Ford F-250 Super Duty: the standard 5.4-liter V8 (300 horsepower and 365 pound-feet of torque), an optional 6.8-liter V10 (362 hp and 457 lb-ft) and the 6.4-liter Power Stroke turbodiesel V8 (350 hp and 650 lb-ft). Transmission choices consist of a six-speed manual or a five-speed automatic. Buyers can choose either two- or four-wheel drive across the board. The previous-generation Ford F-250 Super Duty ran from 1999-2007. The debut of this version marked the first time that Ford gave its heavy-duty pickups their own style. Compared to the soft contours of the F-150 of the time, the angular Super Duty with its massive grille looked every bit the square-jawed brute that it was under the skin.
Initially, the typical trim levels of base XL, decently-equipped XLT and plush Lariat were offered in standard, extended and crew-cab body styles. Engine choices included the standard 5.4-liter V8 as well as the optional 6.8-liter V10 and 7.3-liter Power Stroke turbodiesel V8. A five-speed manual was standard, with a four-speed automatic optional. If you're looking for a used Ford F-250 Super Duty, there are a few year-by-year changes to be aware of. In 2001, updates were made that included standard four-wheel ABS for all trims, an available reverse parking sensor, heated seats for the Lariat and more power for the Power Stroke engine. The following year brought a six-speed manual, new seats and the option of power-adjustable pedals.
For 2003, the FX4 off-road package debuted, as did (for crew cabs) an optional power moonroof and the King Ranch edition. A smaller, yet more powerful, 6.0-liter Power Stroke replacing the 7.3-liter version debuted that year as well. (Buyers should be aware, however, that the 6.0-liter diesel engine has a poor reputation for reliability.) For 2005, the big news was a new five-speed automatic transmission, an upgraded front suspension, a new grille and headlight design and increased towing and hauling capacities. The next few years saw just minor changes to feature and package availability.
Ford F-250 Video