Ford Truck Accessories
For more than 100 years now, Ford Motor Company has been selling mass-produced automobiles in the United States and around the globe. Known as one of the Big Three American manufacturers, Ford has attracted millions of loyal customers with a wide range of dynamic and innovative products that offer considerable value for the money.
Ford F-350 Overviews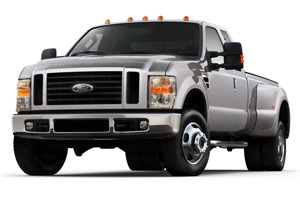 Ford F-350 Super Duty is available in three body styles (regular cab, extended cab, crew cab) and four trim levels (base XL, midlevel XLT, off-road-oriented 4WD-only FX4 and plush Lariat). Many ford f-350 accessories are available to further customize the F-350, including the special King Ranch, Harley-Davidson and Cabela's packages.
A dual-rear-wheel setup is offered as well, which allows more weight to be carried in the bed as well as providing greater stability while towing a heavy trailer. Inside the cab are high-quality materials and a load of niceties, including available leather upholstery, Ford's latest high-tech navigation system and the Sync electronics interface. A trio of engines sees duty in the F-350 Super Duty: the standard 5.4-liter V8 (300 horsepower and 365 pound-feet of torque), an optional 6.8-liter V10 (362 hp and 457 lb-ft) and the 6.4-liter Power Stroke turbodiesel V8 (350 hp and 650 lb-ft.) Transmission choices consist of a six-speed manual or a five-speed automatic. Buyers can choose either two- or four-wheel drive across the board.
For 2003, the FX4 off-road package debuted, as did (for crew cabs) an optional power moonroof and the King Ranch edition. A smaller yet more powerful 6.0-liter Power Stroke replacing the 7.3-liter version debuted that year as well. The 6.0-liter diesel engine, however, has a reputation for questionable reliability. For 2005, the big news was a new five-speed automatic transmission, an upgraded front suspension, a new grille and headlight design and increased towing and hauling capacities. The next few years saw just minor changes to feature and package availability.
In a review that pitted this generation Ford F-350 Super Duty against its Chevy and Dodge rivals, the Ford placed second. The F-350's chief strengths included a refined ride and competent handling and braking. Demerits were given for behind-the-pack performance when towing an 8,600-pound trailer and the cabin's lack of storage and odd mix of cheap plastics and upscale trim.
Ford F-350 Video