Ford Truck Accessories
For more than 100 years now, Ford Motor Company has been selling mass-produced automobiles in the United States and around the globe. Known as one of the Big Three American manufacturers, Ford has attracted millions of loyal customers with a wide range of dynamic and innovative products that offer considerable value for the money.
Ford Ranger Overviews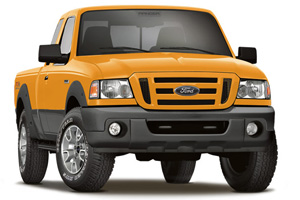 Ford Rangers come in essentially four different flavors: XL, XLT and Sport, and the off-road-oriented FX4. Engine selection consists of a base 2.3-liter four-cylinder and an optional 4.0-liter V6. Transmission choices include a five-speed manual and a five-speed automatic for the four-cylinder, while the 4.0-liter V6 comes with the automatic only. Introduced for 1983, the Ford Ranger started life as a standard-cab, four-cylinder compact pickup truck with a choice of two bed lengths. The mid-'80s saw the introduction of the extended-cab body style known as the "SuperCab," which offered jump seats that were best left to kids. The Ranger continued through the early '90s with minor upgrades to the powertrains and small cosmetic changes until 1993, when the truck was completely revamped.
As Ford's popular small pickup approached the new millennium, features ford ranger accessories such as a five-speed automatic transmission (for V6 models) and rack-and-pinion steering were added in an effort to keep the Ranger competitive. Although it received a freshening in 2001 that brought more power and a serious off-road version called the FX4, the Ranger fell behind rivals from Toyota and Nissan that benefited from full redesigns a few years later. Up until 2009, a 3.0-liter V6 was available.
Throughout its life the Ford Ranger has offered a number of trim and body styles, ranging from serious off-road versions with raised suspensions, skid plates and big tires to sporty "flareside" trucks with flashy graphics and fancy wheels. For much of its early and midlife, the Ranger rode the top of the sales charts. But the one thing the Ranger didn't offer was the crew cab body style, a configuration that became popular among its competitors as automakers began to cater to buyers who wanted a pickup truck that could double as a work vehicle and a family car. With its solid reliability record, wide choice of body and trim styles and lower pricing than comparable Japanese rivals, a well-maintained late-model Ford Ranger makes for a respectable choice in the used vehicle market.
Although nimble on- and off-road due to its true compact size, the Ford Ranger is seriously dated in terms of features and available body styles. While its midsize rivals offer roomy crew-cab (four-door) models, more modern features and much more powerful V6 engines, the Ranger must make do with standard and extended-cab configurations only, and relatively low-tech power plants. For these reasons, our editors suspect that most truck buyers will be happier with one of its many newer competitors. A Ranger purchase could make sense for the right buyer, but only if he's interested in the truck's traditional compact size and capable off-road package.
Ford Ranger Video