Ford Sport Trac Overviews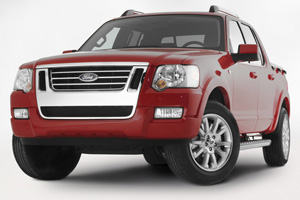 Ford Explorer Sport Trac comes in a single body style: a four-door crew cab pickup. Although it shares the fundamental structure of the Explorer SUV, the Sport Trac is nearly 17 inches longer. The added length comes from its longer wheelbase and allows room for the 4-foot cargo bed as well as plenty of rear legroom.
The Sport Trac's bed is constructed from sheet-molded composite (SMC). According to Ford, SMC is 20 percent lighter than a traditional steel box. It also won't rust or dent. There are three integral storage compartments, and the Sport Trac can be optioned with a folding cargo-bed extender and a hard tonneau cover. There's also a 12-volt power outlet in the bed.
Ford intended the Sport Trac to capitalize on the standard Explorer's creature comforts, so even the base XLT trim is well-equipped with standard ford accessories, including power mirrors and windows, front billet grille, keyless entry, cruise control, air-conditioning and CD player. The premium Limited trim adds larger 18-inch wheels, color-keyed bumpers and mirrors and external hardware, such as foglights and side-step bars. Major options include a sunroof, dual-zone climate control and a navigation system.
There are two engines available for the Sport Trac. The standard 4.0-liter V6 engine is good for 210 horsepower and 254 pound-feet of torque. A five-speed automatic transmission is standard with the V6. Those looking for more power might opt for the 4.6-liter V8 rated for 292 hp and 300 lb-ft of torque. The V8 comes with a six-speed automatic. For all models, Ford offers either rear-wheel drive or four-wheel drive.
In reviews of the Ford Explorer Sport Trac, we've found the vehicle to be competent, with no major faults. Expect average acceleration, even with the V8, and handling pleasant enough to fulfill Ford's target of carlike driving qualities. In addition, the cabin is comfortable and works well enough; just don't plan on being pampered with exotic materials or outstanding craftsmanship.
Although adequate in most respects, the Sport Trac isn't outstanding in any one respect. Accordingly, we'd advise consumers shopping for a multipurpose crew cab pickup to check out the Honda Ridgeline and Nissan Frontier before making a decision. The Honda offers a more functional interior and better handling, while the Frontier is a bit quicker, not to mention more capable in off-road situations.
Ford Sport Trac Video