Ford Transit Connect Overviews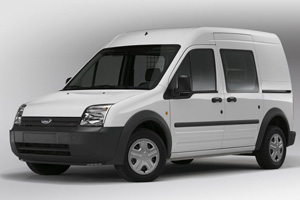 Ford Transit Connect is a compact work van available in Van XL, Van XLT, Wagon XL and Wagon XLT trims, but the only difference between Van and Wagon is the presence of a second-row seat. All come with dual sliding side doors, but these can be deleted, as can the rear glass on the Van.
Standard equipment on the XL includes 15-inch steel wheels, gray plastic bumpers, 180-degree rear doors, air-conditioning, a tilt-telescoping steering wheel, driver seat height adjustment, cloth upholstery and a two-speaker stereo with an auxiliary audio jack. The Wagon XL includes a two-person bench seat. The XLT adds body-color bumpers, full power accessories, heated mirrors, keyless entry, cruise control, a cargo area 12-volt power point and a CD player. The Wagon XLT includes a split-folding 60/40 three-passenger second-row bench seat.
Ford accessories on all trims include Car GPS system an in-dash computer (featuring a touchscreen display, a Microsoft operating system, a wireless mouse and keyboard, a Garmin navigation system and Internet access) and the Crew Chief vehicle tracking system. The Van trims can be equipped with the Tool Link by DeWalt tool tracking and inventory system. Options available on the XLT trims include rear parking sensors, 255-degree rear doors, Bluetooth and remote ignition. Port-installed rear shelving units are also available. The Transit Connect's front cabin doesn't look like a traditional work van's; rather, you'll find a carlike dashboard and driving position. It's a pleasing look that's accented by funky patterned upholstery. Climate and stereo controls are appropriately straightforward. The various high-tech Work Solution features should be a boon for modern business owners with their increasingly complex needs.
In terms of cargo space, the Transit Connect Van offers a palatial 135 cubic feet. Much of that comes from the tall roof, so long items may not fit lengthwise, but the available shelving units make the most of the cargo area. Maximum payload is a modest 1,600 pounds. For ferrying work crews around, the Wagon's rear seats offer a firm seat bottom and reasonable space. The Transit Connect isn't really suitable for families, though. The 2010 Ford Transit Connect's tall and narrow dimensions make it easy to maneuver through narrow urban streets that would leave an Econoline driver double-checking that his company's insurance is paid up. At 39 feet, its turning circle is quite small for something that can lug about 135 cubic feet of stuff. So agility is present, but alas, rapidity is not. The 2.0-liter four-cylinder that feels taxed in the 2,642-pound Ford Focus is completely zonked in the 3,470-pound Transit Connect. Naturally, adding cargo will further reduce its pep.
Ford Transit Connect Video