Ford Truck Accessories
For more than 100 years now, Ford Motor Company has been selling mass-produced automobiles in the United States and around the globe. Known as one of the Big Three American manufacturers, Ford has attracted millions of loyal customers with a wide range of dynamic and innovative products that offer considerable value for the money.
Ford Bronco Overviews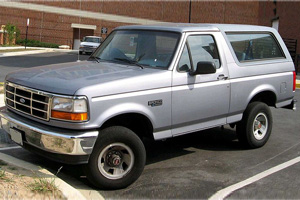 Ford Bronco was very much a truck designed with off-roading in mind. It was available in a singular two-door body style that featured a fiberglass rear roof section that could be removed (albeit with a fair amount of effort). The Bronco underwent its final refresh for 1992, including a new grille and more rounded front end. A new instrument panel and seat styles also debuted that kept the Bronco consistent with the F-Series pickup. This Bronco design lasted until the model was cancelled in 1996.
These Broncos were available in a base trim (first known as Custom, then XL), as well as XLT and Eddie Bauer versions. There was a Nite package available in 1992 that featured XLT ford bronco accessories but with an all-black body. The initial standard engine was a 4.9-liter inline-6 good for 145 horsepower and 265 pound-feet of torque. A five-speed manual transmission was standard, and a four-speed automatic was optional.
Optional in that first year and then made standard was a 5.0-liter V8 that made 185 hp and 270 lb-ft of torque. It ran through the standard five-speed manual transmission or optional three- or four-speed automatics. In 1994, Ford upgraded this engine to 200 hp. Also available was a 5.8-liter V8 that made 200 hp (later 210 hp) and 300 lb-ft of torque. This engine was only available with the four-speed auto. All Broncos came equipped with four-wheel drive.
The Ford Bronco remains to this day one of the sturdiest full-size SUVs around. Well-maintained examples would be a good choice for off-roading duties, although its now-ancient underpinnings make it a lousy choice on-road. The numerous paint options (including two-tone and monochrome Sport options) mean that finding a relatively unique Bronco should be fairly easy.
Of course, no discussion about the Bronco would be complete without a mention of the Juice. Or, more specifically, O.J. Simpson riding shotgun in friend Al Cowlings' 1993 white Ford Bronco as they led police on a slow-speed tour of greater Los Angeles. Beyond proving that it makes a lousy getaway car, the O.J. fiasco certainly put the Bronco forever in pop culture. Although not quite at DeLorean or orange Dodge Charger iconography, owning a late-model white Ford Bronco is bound to elicit the odd chuckle, thumbs-up or inquiry of "did it come with the bloody glove package?" from friends and passers-by.
Ford Bronco Video