Ford Truck Accessories
For more than 100 years now, Ford Motor Company has been selling mass-produced automobiles in the United States and around the globe. Known as one of the Big Three American manufacturers, Ford has attracted millions of loyal customers with a wide range of dynamic and innovative products that offer considerable value for the money.
Ford Edge Overviews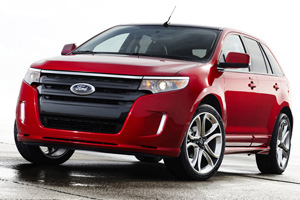 Ford Edge is a midsize crossover SUV available in four trims: SE, SEL, Limited and Sport. All are well equipped with standard features. Even the SE comes with air-conditioning, 17-inch alloy wheels, full power ford edge accessories, stability control and antilock brakes. However, in order to tap into most options, you'll have to step up to the SEL and Limited trims, which can be quite luxurious with all the bells and whistles. The Sport is similar to the Limited, but gives you big 20-inch wheels, unique bodywork and faux suede upholstery.
Powering the Ford Edge is a 3.5-liter V6 engine that's good for 265 horsepower. A six-speed automatic transmission comes standard, and all-wheel drive (AWD) is optional across all trims. It's a variable system that takes into account each driving situation to maximize efficiency. For example, at cruising speeds, an Edge with AWD will function like a front-wheel-drive vehicle to save fuel. At full throttle, between 50 and 60 percent of the power is automatically diverted to the rear wheels to negate wheelspin.
In the midsize crossover utility segment, third-row seats are becoming more popular. The Ford Edge lacks this feature, but counters with a roomy second-row seat. The rear seats also recline or fold forward (though not entirely flat) for increased cargo space. The Edge's maximum capacity is a bit lower than its key competitors'. Although functional and ergonomically sound in design, the interior lacks much in the way of design flair. Materials quality is average.
In road tests, our editors found that the Ford Edge provides good ride quality and decent handling dynamics. Acceleration is only adequate. Even with a solid 265 hp pumping and grinding under the hood, the Edge's heavy curb weight dulls acceleration past 60 mph. The automatic transmission lever also lacks any positions other than "D" and "L," which might annoy some drivers. While Ford has improved the Edge's previously horrible braking performance, it remains below average in the stopping department.
Ford Edge Video